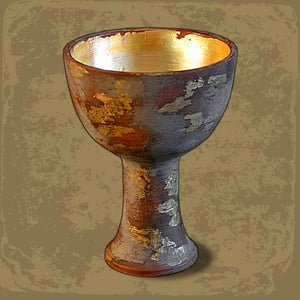 €

80.00
Found in a lost mountain-side temple near Alexandretta here you have the Holy Grail... and just beyond the Great Seal!*, so you don't have the need of challenging huge, sharp and rusted cutting discs, spell correctly the name of God or trusting invisible paths to hold the Grail in your hands.
● 15 cm / 5.9" tall - 11,5 cm / 4½" Ø
● 380 gr / 0.84 lb
● Gold leaf gilded inner bowl and weathered humble look outside.
This is your chance to choose wisely.
(*) We're sorry but this fact has disabled its healing power. ;)
See the finished product here.

And here with the Grail Diary.